Reclaim the Receiving Key is a mission in the The Toy Factory Grounds mission hub from the Holiday Season 2014 event.
Objectives
Edit
Main Objective
Edit
Reclaim the Receiving Key: Get the receiving key from the Gigasaurus Rex.
Secondary Objective
Edit
Frosty's Shipments: Collect all 6 of Frosty's shipping crates hidden throughout the mission.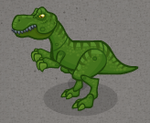 Boss: Gigasaurus Rex
Edit
Gigasaurus Rex is a giant toy t-rex that you fight at the end of the mission. His stats seem similar to the Mega T-Rex 2000's, except proportionally higher. He has no known special attacks.
The only chest in this mission can be found by taking a right at the fork in the path, about halfway through the mission. It is guarded by
Strategies
Edit
For specific strategies on beating this mission, please visit Reclaim the Receiving Key/Strategies
Completion Rewards
Edit
Player XP
Gold
Lumber
Companion XP
Card Rewards
Edit